Three women lead class of five for the Alberta Business Hall of Fame
Within the class are two trailblazers for the current diversification of the economy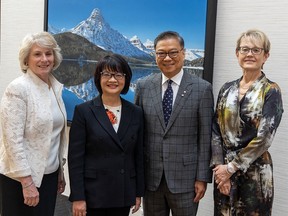 Article content
Three women will head the 2022 Alberta Business Hall of Fame's southern Alberta class.
Article content
Dr. M. Elizabeth Cannon, Wayne and Eleanor Chiu, Nancy Knowlton, and Charlie Fischer (posthumously) were announced as inductees by Junior Achievement Southern Alberta on Wednesday during a luncheon at Hyatt Regency Calgary. The new inductees will increase the number of women to five in the history of the Hall of Fame.
Article content
Within the class are two trailblazers for the current diversification of the economy.
Melissa From, president and CEO of JA Southern Alberta, called Knowlton a model of today's technological startup push.
Knowlton co-founded SMART Technologies in 1987 with her husband, David Martin, and grew it into a global company over 25 years with products such as SMART Boards. For the past eight years she has been president and CEO of Nureva, which continues to evolve media conference technology.
Article content
At the root of their success was a creed that somebody is going to do something important, why not them?
"I think that spirit is alive and well here in Calgary," she said.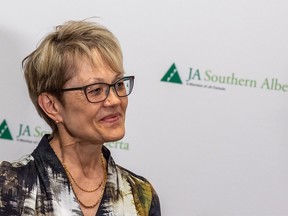 Cannon is a professional engineer and served as president and vice-chancellor of the University of Calgary from 2010 to 2018, and is currently president emerita.
Article content
At her time at the helm of the U of C she expanded university infrastructure to include the Taylor Institute for Teaching and Learning, the Canadian Natural Resources Limited Engineering Complex, WA Ranches at the University of Calgary, the Life Sciences Innovation Hub, and the future. Mathison Hall and Integrated Science Innovation Center. Before she was president and vice-chancellor, she helped turn U of C into one of the top engineering schools in Canada.
Article content
Before academia, her research in the mid-1980s was at the forefront of GPS development and technology.
"Seeing women being recognized I think inspires others," said Cannon of the honor. "It's been important in my life and hopefully it sends a signal that women are making a difference in our city and beyond."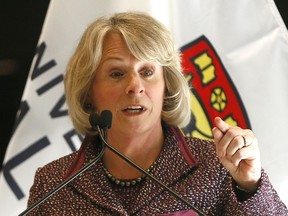 From said the Hall of Fame is critical to the next generation, to see what is possible.
"It's seeing that you can come from here and do big things, and that you can stay here and do big things," she said. "You do not have to go somewhere else to do cool stuff."
The Chius co-founded Trico Homes as immigrants from Hong Kong. While Wayne gets much of the limelight, his wife Eleanor has been in lockstep with him since the day the company began. Almost as important as the business has been their philanthropy, and in 2008 they launched the Trico Charitable Foundation. They are advocates for affordable housing and have made many contributions to non-profit organizations, local First Nations and the post-secondary community.
Article content
"Our business philosophy is doing well by doing good," said Eleanor. "On the business side, when we're doing well we always have to try to remember that it's the community that brings us the opportunity, it's the community that actually enables us to be successful. It's natural to give it back to the people that need it. "
As they enter retirement in the next year, their charitable efforts will likely ramp up.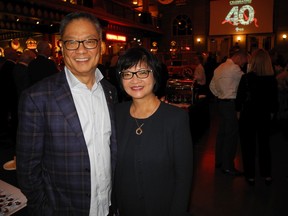 Fischer was a leader in Canada's energy industry for a generation and was an advocate for many causes, including corporate social and environmental responsibility, children's health care and post-secondary education. He turned Nexen into a North American oil and gas power while also co-chairing the Alberta Climate Change Central board and other environmental organizations.
He also served terms as chair of both the Independent Petroleum Association of Canada and the Canadian Association of Petroleum Producers. He was appointed to the Order of Canada in 2019, and in 2020 was posthumously appointed to the Alberta Order of Excellence. He died at the age of 70 on June 17, 2020.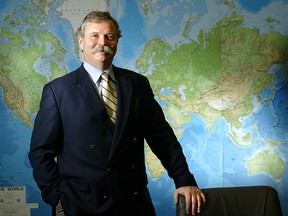 Twitter: @ JoshAldrich03