The Match Out: ASX down but recovers ~100 points from lows, Energy & Resources weigh – James Gerrish
An interesting session for the ASX with the futures indicating an open down ~100 points, however, that was short-lived with some large volume through the SPI knocking the market down by nearly twice that come 10.30 am, before a sustained recovery played out for the rest of the day.
At its worst, the ASX200 was down ~180 points before bargain hunters emerged and the market finished ~110 points up from the morning nadir – a strong turnaround led by a recovery in technology with a large cross-section of stocks rallying more than 6- 7% from their morning sell-off.
The S&P/ASX 200 fell -69points / -0.98% to close at 7051 – a solid turnaround.
Communications (+0.35%) the only sector to finish higher while Consumer Discretionary (-0.13%) & REITS (-0.35%) were relative performers.
Materials (-2.38%) and Energy (-2.09%) succumb to growth concerns.
Interesting to see the ASX test support above ~6900 before rallying strongly.
The smaller end of the market caught my eye, the small-cap growth stocks finally saw some buying – Aussie Broadband (ABB) +5% after a tough run is an obvious example.
Some of the moves we've seen play out in the smaller part of the market, in particular, have been extraordinary – macro induced moves rather than business fundamentals in most cases.
Xero (XRO) +4% was also higher ahead of their earnings release tomorrow, and RBC upgrade + perhaps some short-covering as XRO generally reports well.
Pendal (PDL) +8.11% was out with a strong announcement this morning, the first fund manager to really surprise on the upside in terms of earnings for a while.
AUB -9.91% hit after getting away their institutional capital raise to make a solid acquisition.
Whitehaven Coal (WHC) -1.77% recovered from an ~8% decline early on, we had the CEO in this morning and things are still looking buoyant in coal markets – more dividends and buy-backs forthcoming we think. Such a strong trend in the stock at the moment.
Oil finally succumb to growth concerns, although Woodside (WPL) -2.56% held up pretty well.
National Storage REIT (NSR) -1.75% caught my eye today, it closed at $2.25 having been $2.70 last week. When 10-year bond yields approach the level of a property stock's dividend yield, something has to give.
For those looking for a Midday Market Update – Tune in to Markets @ Midday Here – each day around 12.
Iron ore futures down another 5% today – Iron Ore has been hit in the last few sessions.
Gold was up ~US$8 in Asia sitting back at US$1862/oz at our close.
Asian markets were mixed, the Nikkei in Japan-0.76%, Hong Kong stocks -1.9% while China was up 1.5%!
US Futures are higher, Dow +216pts, Nasdaq +1.55%.

Pendal (PDL) $5.33

PDL +8.11%: a strong first half result for the investment management firm ensured the share price was well supported against a weaker backdrop.

Base fee revenue was up 35% to $317.7m and performance fees up 8% meant revenue beat estimates by at least 5%. Costs were up 20% but still came in better than expected which meant UPAT at $131m was a ~25% beat to market. Performance of FUM has dipped slightly on a 1-year view, though 38% still outperforms its benchmark over that period.

They" now launch a $100m buyback which was announced at the time Perpetual (PPT) launched a takeover bid for the company.

Pendal is trading well above the intrinsic value of that offer which now looks very opportunistic given the first half's performance. While margins are expected to normalise in the second half, they'll likely settle above what has been priced in
.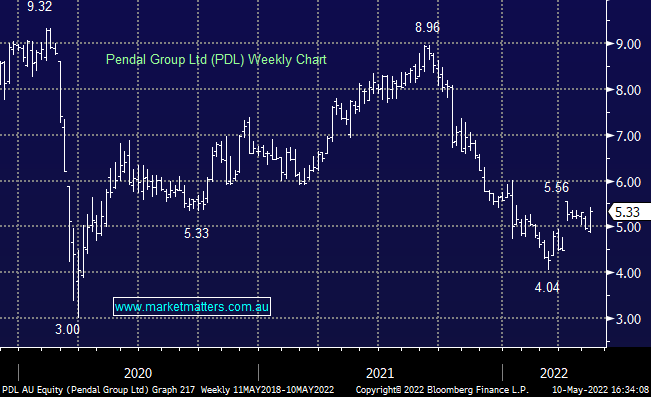 Broker Moves

Transurban Cut to Underweight at Jarden Securities; PT A$13.40
APA Group Cut to Neutral at UBS; PT A$11
Westpac Raised to Overweight at Morgan Stanley; PT A$25.70
Xero Raised to Outperform at RBC; PT A$130
Westpac Raised to Hold at Jefferies; PT A$21.30
Evolution Raised to Overweight at JPMorgan; PT A$4.80
Suncorp Raised to Overweight at JPMorgan; PT A$14
AGL Energy Cut to Neutral at JPMorgan; PT A$8.70
Pentanet Rated New Buy at Shaw and Partners

Major Movers Today

Have a great night,

The Market Matters team

Make informed investment decisions

At Market Matters, we write a straight-talking, concise, twice daily note about our experiences, the stocks we like, the stocks we don't, the themes that you should be across and the risks as we see them. Click here for your free trial.

The Match Out will be available each day after the market close. Follow my profile to be notified when the latest report is live.
.