Sunday at Melbourne Theater Company; Ty Segall
Refreshingly, sexual jealousy doesn't get much of a look-in. Matt Day as John Reed is understated – a man who wears his principles like a tailored suit, allowing himself only the odd twinge of discomfort; his commitment to and affection for Sunday plainer for being so quietly drawn.
Loading
What does torpedo the open relationship and lead to permanent estrangement is Nolan's proposal of marriage. It's the same fate that befalls the unconventional heroine of Summer of the Seventeenth Dolland there's an echo of Olive's distress in the moment when an ashen-faced Sunday realizes that Nolan's possessiveness will doom their love.
For her part, Sunday is possessive about her power to influence art. A cruel outburst from Nolan puts her in her place, reminds us how class complicates the picture, and presents both sides of the structural issue of funding the arts through philanthropy. Sunday Reed was wealthy – a member of the prominent Baillieu family – and could afford to be unconventional; the artists drawn to her oasis were not, and they had few options but to rely on such largesse.
The production is not without flaws. It's overlong, the design does little to focus the performances or to create a sense of intimacy, and there's a splash of histrionic melodrama towards the end that feels out of character.
Yet the intelligent dialogue, complex themes and three excellent performances make Sunday a new Australian play well worth catching.
Reviewed by Cameron Woodhead
MUSIC
Ty Segall ★★★★
The Forum Theatre, January 21
"Turn it up, front of house, this is a f—king rock show!" shouts a perturbed fan. People around him grumble back: "Turn yourself down." Spicy.
California's Ty Segall is three songs into his 95-minute set and facing guitarist Emmett Kelly, the two singing Californian Hills conspiratorially low, so we all lean in and listen harder.
"From the history, histories of Western civilization," he whispers, pushing the tense, tantric vibes to the limit in front of a (mostly) patient crowd who had waited eight years for this.
Five songs in, the rest of Segall's Freedom Band stroll out to a huge cheer, looking like they've just stepped off the set of Cameron Crowe's Singles.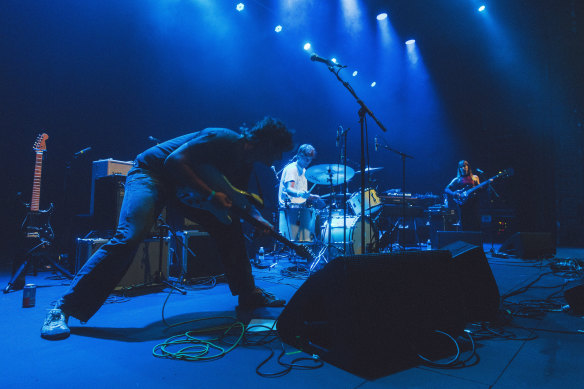 Fans were promised "a berserker, fuzz-tone, glam-garage-travaganza not to be missed!" and that's exactly what they got, extra emphasis on psych'n'sludge sonics, less focus on Segall's pipes.
Swathes of red and yellow light duck and swoop across the stage as the 35-year-old gets to work on what he loves to do most: rain down riff after pulverizing riff. Wave Goodbye and Manipulator help stir the crowd into action and a mosh breaks out. I count a total of 11 crowd surfers for the night: nine blokes and two women.
Loading
"Put your vapes in the air," quips a guy next to me at a quieter moment, the smell of a certain 'erb snaking its way around swaying heads. I look up at The Forum's many naked statues and swear I can see the ghost of David Crosby glinting down.
Returning to the stage for a two-song encore, Segall and band went full Ween with the comically good My Lady's on Fire causing the biggest singalong of the night (even the angry guy looks happy now), which concludes another dose of cathartic rock'n'roll as Melbourne continues to heal.
Reviewed by Mikey Cahill
A cultural guide to going out and loving your city. Sign up to our Culture Fix newsletter here.