School bus companies launch web-based campaign to attract drivers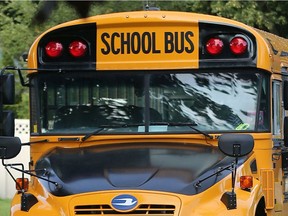 Article content
The Ottawa Student Transportation Authority (OSTA) and a group of operators have launched a campaign to try to attract new drivers to address the continuing driver shortage in the region.
Article content
The "DriveYellow.ca" effort is described as a multi-pronged campaign, "aiming to entice people who are interested in work-life balance, who love kids and who want to contribute to their community in a meaningful way to consider driving a school bus or a van over other types of jobs. "
Bus operators Roxborough, Voyago, ML Bradley, First Student and Premier are also part of the DriveYellow.ca campaign.
"The driver shortage predates COVID-19, and it has been exacerbated by the pandemic," said Vicky Kyriaco, OSTA's general manager and chief administrative officer of in a release.
OSTA's main goal is to provide reliable service in September.
"That's going to take at least 70 drivers," Kyriaco said in a statement.
Article content
"In order to restore services to previous levels, we would need 120 drivers, and we will continue to work toward that (ultimate) goal."
At this time, OSTA has contracted the system by combining routes, splitting routes, reassigning students to public transit, building in delays and other steps.
"Of the 12,000 students whose yellow bus routes were canceled at the start of the school year, and throughout the year, we currently have about 70 students whose transportation continues to be canceled long-term," Kyriaco said.
The driver shortage also affects daily operations because there are no spare drivers to replace those who are affected by COVID, undergoing medical procedures and others who cannot work on any given day.
Article content
The microsite includes information on the requirements and steps to becoming a driver, a list of operator job posts, their service areas and an online application process.
The OC Transpo Amalgamated Transit Union Local 279 is promoting the driveyellow.ca campaign to its local members, specifically targeting members thinking of retirement.
"Many ATU members may have started out as yellow bus drivers before joining OC Transpo. We support OSTA's efforts to provide transportation services for kids throughout the city, while giving our retired members an opportunity to continue providing a valued service in our community, "said Clint Crabtree, president of Amalgamated Transit Union Local 279.
For more information, go to driveyellow.ca