Opinion: Heritage languages ​​don't threaten the acquisition of French
The new language law's Rush for newcomers to learn French in six months is not only unrealistic, but unnecessarily heavy-handed.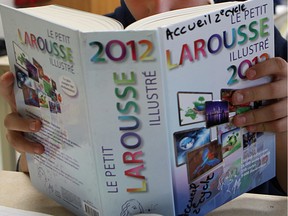 Article content
Bill 96 in effect gives newcomers a mere six months to learn French. After that time, it's in most cases the only language in which they can receive government services. The provision seems based, at least in part, on an Assumption that forcing immigrants to set aside their mother tongues (and the use of English) will help them acquire French more quickly.
Article content
Such an Assumption flies in the face of 40-plus years of scientific research that challenges many commonly held views about second-language learning by individuals who do not speak the majority language at home. In my more than 50 years of studying second-language teaching and learning in Quebec, I have come to the conclusion that most "common-sense" ideas about second-language learning and bilingualism are really nonsense.
The new language law's Rush for newcomers to learn French in six months is not only unrealistic, but unnecessarily heavy-handed. In economically advanced countries around the world, first-generation children of immigrants acquire native-like proficiency in the host language during their lifetime while, at the same time, maintaining proficiency in the heritage language. By the third generation, most descendants of immigrants have lost proficiency in their heritage language and are monolingual in the host language. There is no reason to think these facts would differ in Quebec where the vast majority of children of newcomers attend French-language schools.
Article content
A widespread myth about language acquisition is that second-language learning is a "zero-sum game," that acquisition of a heritage language interferes with acquisition of the host language. The Assumption here is that children of immigrants need as much time to learn the host language as native speakers of that language. However, research at McGill indicates that this is not necessarily true. Many children acquire proficiency in two languages ​​that is on par with that of monolinguals despite less exposure to each language. This can be explained by research findings that strong foundations in children's heritage language facilitates the development of proficiency in the second language that falls in the range that is typical for monolingual speakers of that language. This is called "crosslinguistic facilitation."
Article content
Children who are schooled in a second language (French in the case of Quebec) acquire literacy and other academic language skills more readily if they have already acquired early literacy skills and the ability to use language to think in the native language at home. Newcomer parents who themselves have not yet acquired proficiency in the host language can impart these kinds of language skills if they use their native language. Newcomer parents who think they can give their children a head-start for schooling by using the host language in the home, even though they themselves lack proficiency in that language, cannot Foster development in these critical language skills. The myth about the advantages of early use of the host language in the home has been debunked by research.
Article content
There are also significant psycho-social reasons for promoting the maintenance of heritage languages ​​in newcomer families. Adolescent children of newcomer parents who maintain use of the heritage language in the family have a greater sense of well-being, better interpersonal skills and self-control, and fewer problem behaviors. These findings make a great deal of sense: parents are better able to socialize their children and to instill a greater sense of well-being if they use a language that they are proficient in.
Taken together, research indicates that politicians, educators and parents alike need not fear heritage languages. To the contrary, support for the development of heritage languages ​​in children of newcomers is probably a more effective route to ensuring competence in the host language. At the same time, development of the heritage languages ​​of newcomers is more likely to ensure the healthy integration of newcomers into Quebec society because it entails the addition of a new language without sacrificing an important linguistic and family resource.
Fred Genesee is Professor emeritus of Psychology at McGill University.
Opinion: Bilingualism is a gift, not a threat

Allison Hanes: Quebec's plan for new immigrants is a recipe for failure