NJCU's Children's Learning Center – The Gothic Times
NJCU doesn't only provide an education for adults, it also offers a daycare. The Fully licensed and accredited Children's Learning Center (CLC) provides Preschool and Pre-K classrooms, as well as drop-in childcare services for children ages 2-and-a-half to 6 years old.
"NJCU's CLC program has been a godsend," said Savannah Ferlandan NJCU student who uses the center for her five-year-old son. "Before I enrolled at the university, I took a tour of the campus. While I was being walked through Hepburn Hall, the tour guide casually pointed out the Children's Learning Center. I asked him to pause briefly, so that I could read the Reggio Emilia [education] statement that was posted outside the center."
Ferland said her son has learned quite a lot from being there. He is now able to identify numbers and letters, knows how to write, and his social-Emotional development has improved drastically over the last couple of years. Her son also enjoys going to school and seeing his teachers and classmates; honly complaint is nap time.
She said "The tuition is incredibly affordable, especially considering the high quality of services. NJCU's CLC program was, by far, the best option (all-around) for my son's early childhood education."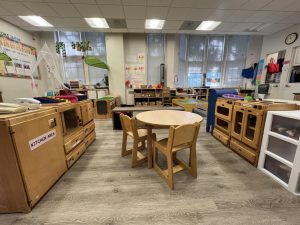 "NJCU's CLC program strongly influenced my decision to attend," said Ferland. "Having my son enrolled there has been convenient for our daily routine, in terms of transportation. The cost of tuition is affordable, especially considering the price tags on programs in the area of ​​a similar quality."
Ana Aponte, director of the CLCsaid, "[It is] a beneficial service that is offered to NJCU students, staff, faculty, and alumni. This service allows students to attend their classes while their child is in a safe and educational environment. Staff, faculty, and alumni are also able to go to work while their children are cared for."
The location of the center is extremely convenient, and parents can stop by and check in on their children throughout the day. Aponte said COVID-19 has impacted the centerbut hopes to bring back some in person events, visits, and celebrations in the near future.
Monthly charges depend on how many hours a parent schedules their child (hourly rates are $3.50 for students and $6 for staff/faculty/alumni). Due to COVID-19the center only provides Enrollment information to families looking for childcare.
Children enrolled full-time in Preschool and Pre-K programs can receive an individualized curriculum designed around each child's personal development level, learning style, and interests.
NJCU can thank Reggio Emilia's approach to childhood education for the CLC program, which was established in 1982. It emphasizes project-based learning, the use of art as a development tool, collaborative group work, and attention to the physical classroom environment as a component of teaching and learning.