Mental anguish and mistreatment are rampant in marine science
Unpaid labour, mental-health disorders, discrimination and abuse are rampant concerns in marine science, according to a survey of students and early-career researchers in the field1.
Of the 492 respondents to the survey, conducted globally between 1 April and 5 May 2020, nearly three-quarters said they had experienced mockery, discrimination and/or abuse in their place of work or education. Nearly one-fifth of respondents reported sexual abuse, and more than one-third reported verbal abuse.
Many participants, particularly those who identified as female or non-binary, reported experiencing anxiety, depression or burnout. More than 60% of respondents felt that their mental health had worsened because of their work. And more than one-third reported working in unpaid positions under risky conditions, including situations in which they had to use malfunctioning or unsanitary equipment, or had insufficient protection from chemicals. The survey did not provide more information on working conditions.
While attending the 2019 World Marine Mammal Science Conference in Barcelona, ​​Spain, the study's lead author — Anna Osiecka, a marine researcher at the University of Gdańsk in Poland — says she had heard an unusually high number of anecdotes about unpaid work and mistreatment from graduate students. To explore the extent of these experiences, she and her colleagues launched the online survey, at early-career researchers from undergraduate students to postdoctoral researchers in ocean and marine science.
Limited diversity
Most of the survey-takers were between the ages of 22 and 35, and 82% were women. Fewer than half of the respondents held a paid job in ocean science or conservation, yet 49% had a graduate degree in the field. Most were white and from the global north — a possible artefact of the survey methods, which included outreach on social media and professional mailing lists, says Osiecka. She notes that the high number of white respondents could be the reason that she and her co-authors could not tease out the influence of ethnicity on respondents' experiences as they had hoped to.
Still, the lack of responses from people of color highlights the lack of diversity that has long plagued ocean science. In the United States, for example, approximately 35% of the population identifies as Black, Latinx and/or Indigenous, yet Latinx students earn less than 10% of Earth, atmospheric and ocean sciences graduate degrees, and Black students earn less than 3% , according to 2019 data from the US National Center for Science and Engineering Statistics.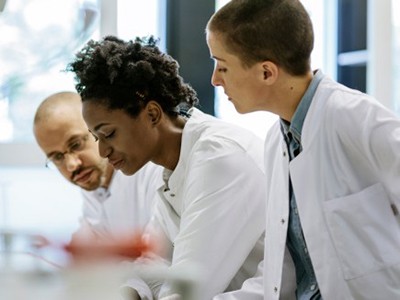 Collection: Diversity and scientific careers
Casandra Newkirk, a marine biologist at the University of North Carolina at Charlotte, says the survey results resonate with her as the only Black postdoc in her department. "I've had situations where I felt minimized," says Newkirk, who was not aware of the survey. "Which is why I don't even really like to speak up anymore," she says, adding that she doesn't want the stress that comes with academia. "I don't want to be a faculty member," she says.
Harassment and poor working conditions are prevalent
Fewer than one-quarter of survey participants had told superiors about some of the abuse that they had experienced — ranging from discriminatory exclusion from work to performing tasks that put their health, life or safety at risk — and just under 3% said they had reported all of it. These respondents said they feared losing future career or work opportunities in their desired field if they reported the abuse. Osiecka says leaders in marine science and ocean conservation must create mechanisms to improve safety by, for example, crafting a code of conduct so that harassers can be removed from workplaces and professional meetings, or developing a way for junior researchers to safely and anonymously report abuse .
Respondents painted a picture of widespread unpaid labour. Only about 60% of all of the participants' reported work time was paid; the rest was either unpaid or was compensated by food and board. Survey results also indicated that respondents spent, on average, more than US$6,000 to cover the costs of work-related travel, visas or insurance. And just over half received professional references for their unpaid work.
Marine science has long struggled to improve racial justice and gender equity, and to create a welcoming environment for people from all socio-economic strata, says Eddie Love, program manager and chair of the diversity, equity, inclusion and justice initiative at the Ocean Foundation , an international non-profit conservation organization based in Washington DC. But that struggle is beginning to pay off, he says, in part because junior researchers are challenging leaders across the discipline to be held accountable for increasing the diversity of employees, addressing harassment and establishing a healthy workplace culture. "There's been progress, but there is still a lot of work to do," he says.
To make the discipline more inclusive, says Osiecka, its culture must be changed. For example, she says, researchers in ocean and marine sciences who are familiar with yachts, know how to sail or can afford expensive diving certificates are more competitive candidates for available jobs because of their privileged circumstances. Furthermore, she notes, those applicants are usually the ones who can afford to take unpaid internships. "We're expected to have a lot of unpaid experience to even deserve to be paid in the first place, which is completely ridiculous," she says. "People should be paid for any work that they do."
Intertwined with the issue of pay for work is the problem of huge workloads and a steep learning curve for junior scientists, which inevitably leads to burnout, says Mibu Fischer. A Brisbane-based marine ethnoecologist at the Commonwealth Scientific and Industrial Research Organization, the Australian government's research agency, Fischer says a lack of workplace diversity — particularly amid the country's push to reconcile relations between Indigenous and non-Indigenous Australians — leaves her feeling overworked and isolated.
Fischer, an Aboriginal woman in Queensland, works to create avenues to integrate Indigenous knowledge with academic science. She is concerned that efforts to stamp out unpaid labor in the field leave limited funding for completing projects. That, she says, leads to small teams who are tasked with a great deal of work — and often limits important participation from Indigenous groups.
Osiecka hopes that the survey results help to demonstrate the scale of workplace abuse and discrimination across the discipline. "It's not just single people being ridiculous, overreacting or being overly sensitive," she says. "There is a massive issue with how we're all being treated."