LaBonte wants to focus on quality of education, facilities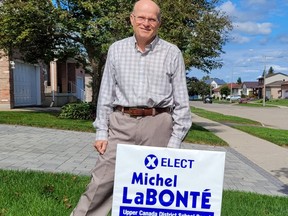 Article content
Editor's Note: This is the first in a series of profiles of candidates for Brockville-area public school board trustees. The election is on Oct. 24.
Article content
Michel LaBonte hopes to be elected as a public school board trustee next month, although he has been following the board out of pure interest for years.
LaBonte, 64, is one of two candidates to be a Brockville-area trustee for the Upper Canada District School Board, and said he "enthusiastically" entered his name onto the ballot on May 2 – the opening day of nominations.
LaBonte, who currently chairs an advisory committee of the public school board, is running against incumbent John McCrea, to represent Ward 5, which covers Brockville and Augusta Township.
"It's all about the students," LaBonte said in a phone interview, of his motivation to run.
LaBonte has lived in Brockville since 1980 and had a 30-year career as a chemical engineer at Invista in Maitland. Once retired, he began reacquainting himself with an interest he's held for years.
Article content
In Grade 11, he took an aptitude test that recommended a set of options for his future: He could either be a chemistry teacher, or a chemical engineer. He chose to be an engineer, but that interest in education never waned, he said.
"I've certainly always had an interest in and highly value our educational system," he said.
After retiring from his career as an engineer, he had a family discussion about what the next phase of his life would look like. His daughter, a local school teacher, suggested he would be a good school board trustee. That's when he started attending the public school board's meetings.
"I have been to every board meeting since September 2017," said LaBonte.
"After the first six or seven meetings, I said: 'I have a skillset that would work out well in the school board.'"
Article content
That skillset, he said, includes being pragmatic, and an "honest, logical, simple, common-sense" person – qualities he said will make him a good fit on the board of trustees.
He said the overall quality of the country is "fundamentally based on the quality of our educational system, and that includes the quality of all our resources; staff, facilities, equipment and leadership."
When it comes to specific ideas he will bring to the board table, he said he does not deal with platforms.
"I'm actually quite discouraged when I hear or see one- or two-issue candidates," said LaBonte.
He added, however, one of his main goals as a trustee would be to make sure school facilities are "as good as they can be."
This includes improving ventilation, air conditioning, furniture, overall quality of school buildings, and the quality of the courses offered.
Article content
"We must recognize that we do compete with three other school boards. All of the aspects of our educational system are (considered). The quality of our people, but the quality of our facilities and our equipment is something people look at, as well."
Specifically, he hopes to ensure arts education is prioritized. He plays the trumpet, and said he's "volunteered music-related assistance at many of our local schools."
"Music is an invaluable part of our society," he added.
Despite never being on the board of trustees, he has some experience in the system. In 2018, he was appointed by the board of trustees to the Special Education Advisory Committee, and eventually became the chairman of that committee in January of this year.
Article content
Over the course of his career, he served on "every position, including chair, of the local chapter of Professional Engineers Ontario." He was the education outreach coordinator, "bringing engineering principles into some of our local schools."
For this work, in 2000, he was recognized and officially inducted into the Engineering Order of Honour, he said.
These experiences, he added, would make a "valuable" contribution to the board.
"The school board needs a lot of various input and they need some high level educators. They need pragmatic people," he said.
"We have a pretty good blend on the board, and I think it could be a little better with me on it."