Headless mannequin, porcelain dolls among first items purchased during stage sale
Funds raised from the sale at the Capitol Center will go back to the North Bay theatre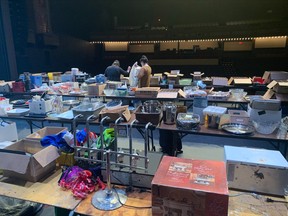 Article content
The first item out the door was a headless female mannequin.
"We opened the doors at 9 am, but people were here a lot earlier asking if they could come and take a look at the stuff," said Mikayla Beauvais, audience services associate with the Capitol Centre.
"A few used a chair and just piled the stuff into a tower that they wanted to buy."
Old stage lights, an appliance to cook s'mores, a chocolate fountain, juice press, porcelain dolls and antique doors were a few of the items that were snatched quickly by treasure hunters during the stage sale Saturday at the Capitol Centre.
"A guy bought two martini glasses – one for his wife and the other for himself. The box was only $10 but he said there is just two of them and all they needed was two glasses."
Tables lining the stage were filled ontop and underneath with dishes, records, costumes, posters, and every size of glass you could imagine. There were liens and white chair covers, kitchen utensils, cushions and Christmas decorations.
Eric Koski-Harja, Katie Cowper and Dilip Patel all assisted in restocking the tables and helping carry items out for customers.
In addition to finding good deals there were many one-of-a-kind items including a classic Betty Spears theater seat.
Beauvais said the items came from the Capitol Center kitchen and in the theatre's downstairs storage area.
Items that aren't sold will be donated.
By 12 pm the price was slashed in half, however Beauvais said people have been extremely generous.
She said all funds raised will go back to the Capitol Center.
"Some people came early and then returned two or three times to take another look and buy more."
Although the deals were hard to pass up and there were endless items, a few took in the moment of being on stage at the Capitol Centre.
Beauvais said for a few they were surprised we were having the sale on the main stage.
"Many have never been on the Capitol Center stage before. Many have said they've never been on a stage."