Climate data: How much have Utah's spring storms helped the state's drought?
A cyclist rides through Bonneville Boulevard near the mouth of City Creek Canyon during a cloudy spring evening in Salt Lake City on April 27. Storms in March, April and May have produced rain and snow across the state, but not enough to match spring normals. (Carter Williams, KSL.com)
Estimated read time: 6-7 minutes
SALT LAKE CITY – A storm system that rolled past the Wasatch Mountains dumped as much as a foot of snow in the Alta area over the weekendequating to at least a half-inch of new water for many parts of the range.
But for as stormy as the last few weeks have been in Utah, they haven't produced as much as spring storms have in the past – and that's fueling the return of serious drought categories in the state, says KSL meteorologist Matt Johnson.
"The reason it may feel like a wet spring is because we've had a lot of small storms and days and months where we've seen clouds or cooler weather, but they haven't been delivering a ton of water with them," Johnson said on KSL NewsRadio's Dave and Dujanovic Monday.
This is true of Salt Lake City, which through Sunday had already recorded at least a trace of precipitation on 32 days of this meteorological spring. The storms of March, April and now May have produced 2.95 inches of precipitation, according to National Weather Service data updated through Sunday.
While there are eight more of these stormy days than the same period of time last spring, the city is actually 0.4 inches below last spring's total through May 8. The current total is also well below the city's 30-year spring normal of 5.73 inches, meaning 2.78 inches of precipitation is needed in the last three weeks of May just so the city can reach the average spring level since 1991.
"That's kind of been the trend the past three springs," Johnson continued, pointing to the below-average springs in 2020 and 2021.
A dry spring
This low spring moisture production isn't unique to Salt Lake City. The National Centers for Environmental Information released a report Monday that found last month was the 25th-driest April in Utah since statewide data was first collected in 1895.
With a lousy end to the winter months, Utah's entire 2022 calendar year is again on pace for one of its driest ever recorded. The state's average of 2.37 inches of water collected since Jan. 1 is the third-lowest through the first third of a year on record. Only 1972 and 1977 had drier starts through the first four months of a year over the past 128 years of data collection.
The dry start is why almost all of Utah is considered in at least a severe drought while about 44% of Utah is listed in an extreme drought, according to the US Drought Monitor.
The recent storms have helped cool down the state a bit, which has helped some in the snowmelt equation. The first third of 2022 was the 37th warmest on record, though still 1.7 degrees above the 20th century average.
"It's staving off the onset of our snowmelt," Johnson said. "Usually, we're melting it quite a bit in April and May – and June quite a bit. But with the cooler weather, adding a little bit of snow, we're preventing the onset of that. That's good news, that's the silver lining. "
Utah isn't alone in this issue. The National Centers for Environmental Information points out California had its driest start since 1895, while Nevada also produced its third-driest station on record.
What about the streams and reservoirs?
There are still about 3.8 inches of water left in the statewide snowpack, according to the Natural Resources Conservation Service. That number is about 59% of normal for the stretch before all of the snow collected this year is melted.
This will flow into the reservoirs, which are extremely thirsty not only from the past few years of drought but from the 20-year megadrought.
Utah's entire reservoir system is at about 60% capacity, down from 67% at the same time last year. In addition, over half of the state's 96 measured streams are also flowing below normal at the moment despite the runoff, according to the Utah Department of Natural Resources.
Utah's current drought situation dates back to about this time two years ago. With Monday's update, the first third of 2020 is now the 17th driest on record. The 2020 calendar year wound up the driest on record because the summer monsoons and fall precipitation each disappeared.
"That's what really dug us in a hole," Johnson said. "That put us in a really bad drought situation."
The 2021 calendar year was on pace for an equally dry year until the monsoons returned in full force and the year ended with a series of strong winter storms. It had the 18th-driest first third of a year and ended up only 0.01 inches below the 20th century average, but not enough to completely shake Utah out of its drought.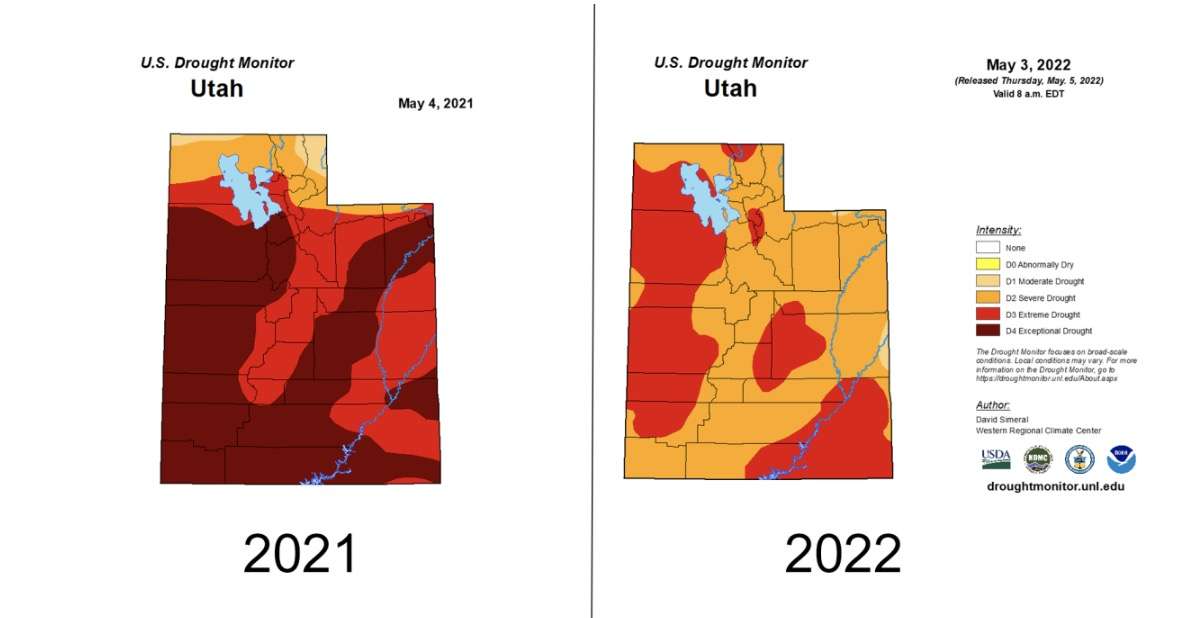 The vast difference in the outcome of the two years is why Utah's drought isn't as severe as it was in early May of last year, but reservoirs are lower than they were this time last year. The precipitation to close out 2021 dampened Utah's soils but didn't completely refill the reservoirs.
There wasn't a large enough snowpack this year to cover the losses from the past two years – or 20 years for the largest reservoirs, like Lake Powell.
What comes next?
So what's on the horizon? There is still some stormy weather left in the current cycle, but not enough that will overcome any precipitation deficits. A storm system is expected to move across the state Wednesday evening, bringing a mixture of mountain snow and valley rain, according to Johnson.
It's impossible to know if this year's dry start will translate into a 2020-type year or a 2021 repeat.
The National Weather Service's Climate Prediction Center projects the drizzly weather of the past few weeks to end after this week, setting up drier-than-average conditions for the start of summer.
Basil Newmerzhycky, a lead meteorologist for Great Basin Predictive Services, said during a fire season outlook event last week that long-range forecasts offer optimism that monsoons will return in Utah this summer, which likely won't get the state of the drought or any of the reservoir issues but could reduce some of the state's fire risks by August.
"Some of the large-scale climate variables are in place that would create a fairly robust monsoon again-that would start at or near July 4," he said.
Ultimately, the only solution is repeating the 2017 or 2019 water years and not the past two years. In 2017 and 2019, Utah had great storms producing above-normal totals strong enough to refill most of the state's reservoirs and lift drought orders.
With the snow season mostly over, Gov. Spencer Cox issued another emergency drought declaration and water officials are urging conservation because this winter and spring didn't bust the drought as they had hoped.
It's also why experts are already starting to think about the next snow collection season as a way out of the cycle.
"We've dug ourselves into a rut," Johnson said. "To climb out of this we don't just need one good year or good spring, we need two or three to get back to where we need to be."
×
Most recent Utah drought stories
More stories you may be interested in
.