Back to school for track and field
DDSS athletes glad for return of competition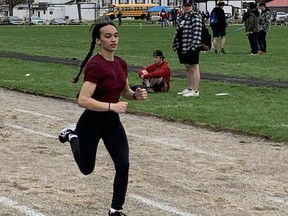 Article content
High school track and field athletes returned to competition last week after a two-year hiatus due to the pandemic.
Article content
Athletes at Delhi District Secondary School were among those at Norfolk high schools who joined together for a day of competition and camaraderie.
"It's awesome to get back into it. It's great to be out there, having fun with your friends and competing. It's been two and a half years; the last time I did this it was Grade 9, "Adam Leatherland, senior student at DDSS, said during Wednesday's competition. "It's awesome to be out there and have a normal school year again and still pretty much COVID-free, which is great."
Leatherland broke the school senior male record of 11.35 seconds in the 100-meter dash, finishing the sprint with a time of 11.15s. He also placed first in the senior male long jump, 200-meter dash and triple jump. The ranked first place overall in the senior male division.
"The nice thing about track and field is that it brings all athletes together, anybody can compete," said Jodi Snowden, track and field coach at DDSS. "It brings the whole school together because it's not one specific sport; everyone has that chance to shine. "
Snowden said that the event's greatest aspect this year is the smiles on students' faces.
"They are so excited to be out. As a school, this is really the first big event we have done since the (pandemic) restrictions have been lifted. Everyone is hands on and it feels fantastic, it's a good day. "
Grade 9 student, Eowynn Fowler, broke the novice female 400-meter dash record in 1: 12.51 and the 3000-meter run at 13: 06.00. Previous records were 1: 12.80 and 13: 14.80 respectively.
Article content
Fowler said it felt good to break the two records and also to compete in the event again after two years.
Lexi Shepherd attained three first place finishes in the junior female competition: 200-meter dash, 400-meter dash, pole vault and high jump.
Kyle Farkas finished first in the junior male 400-meter dash along with the 800m, 1500m and 3000m runs.
There were 250 athletes competing in the school's track and field event.
All first place and some second-place finishers will head to this week's Athletics Association of Brant Haldimand Norfolk event to compete against other students within the Grand Erie District School Board.
AABHN track and field will be held on May 10 and 11 in Brantford.
Top 3 individual rankings
NOVICE FEMALE
1 – Eowynn Fowler, 28 pts
2 – Naiya Bilger, 24 pts
3 – Ayla Weiler, 20 pts
NOVICE MALE
1 – Jacob Johnstone, 26 pts
2 – Jackson Becker, 25 pts
3 – Liam Bright, 20.5 pts
JUNIOR FEMALE
1 – Lexi Shepherd, 26 pts
1 – Mel Steinhoff, 26 pts
3 – Alaina DeBock-Hubbard, 17 pts
JUNIOR MALE
1 – Kye Farkas, 28 pts
2 – Lincoln Swerdfeger, 21 pts
3 – Jared Wesseling, 20 pts
SENIOR FEMALE
1 – Ava Zurby, 24 pts
1 – Addison Bartik, 24 pts
3 – Lyndsey Doan, 19 pts
SENIOR MALE
1 – Adam Leatherland, 28 pts
2 – Aiden Wesseling, 19 pts
3 – Aidan Ilton, 17 pts