An affordable premium electric car? You bet! Mini boss talks cheap EVs and how the brand could give MG, BYD and Hyundai a run for their money – Car News
Can an automotive brand be both premium and affordable? Or is this impossible? Is it one or the other?
I can't think of too many high-end brands that claim affordability as one of their key selling points. Especially one that's about to go all-in on electric vehicles.
But one iconic brand thinks it is indeed possible.
Read more about the Mini 3D Hatch
Speaking with Australian journalists at the recent unveiling of the Aceman concept in Germany, the head of the Mini brand, Stefanie Wurst, said not only should Mini be affordable, but its coming family of electric vehicles should also be within reach.
"Definitely, I think there is always room for entry models, and I think electric models shouldn't be something that is not achievable or affordable for people, so I think it is important to have here also an entry position," she said.
It's debatable as to whether Mini is an affordable or a premium brand, but certainly in Australia, it is positioned at the fancier end of the market.
Take the Mini three-door Hatch for example. In entry-level Cooper Classic guise, it costs $37,500 before on-road costs. That's the cheapest Mini money can buy in Australia. For the same coin you could buy a well kitted out Mazda3 or a Volkswagen Polo GTI hot hatch.
Mini currently only has one EV in the three-door Hatch, but more electric models are coming.
However, in the United Kingdom, where the brand originated pre-BMW ownership, and the Mini Hatch is built, the three-door starts from a tick over £16,000, which converts to just $28,000. It's one of the top-selling models in the country and could hardly be described as premium.
Given Ms Wurst's comments, however, Mini could well offer somewhat more affordable electric offerings when it ramps up its EV assault in the next couple of years.
Mini will launch the next-gen Hatch with internal combustion mild hybrid, plug-in hybrid and EV powertrains from late 2023. There could well be more EV grades than the two on offer in Australia in current generation guise that start from $55,650 (BOC) .
The next Countryman will be exclusively fully electric, as will the upcoming Aceman smaller SUV. Given so many Mini models are going all-electric, it suggests that Mini's desire for entry level EVs within reach of buyers could well happen.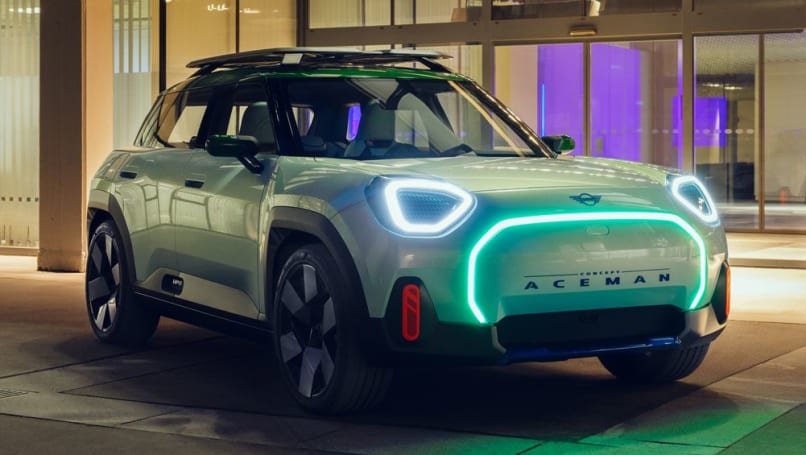 A production version of the Mini Aceman EV is also coming soon.
Currently the cheapest EV available in Australia is either the MG ZS EV from $46,990 drive-away, or the BYD Atto 3 SUV from $44,381 before on-road costs. Depending on the on-road costs of the state or territory you live, one might be slightly cheaper than the other.
Hyundai has talked about more affordable EVs recently, and more Chinese brands including GWM-owned Ora are likely to shake things up in Australia too.
Ms Wurst said electric vehicles will also be the key to Mini's future global sales growth, largely on the back of downsizing and urbanisation.
"Yeah I think so because now we have a very good electric model but we only have one, and we are going to have many more, we have much more demand than we have supply. If you look at areas like Asia or even the US, if you concentrate on urban areas, if you see the demand of people and demand for smaller cars… the world is open for Mini."